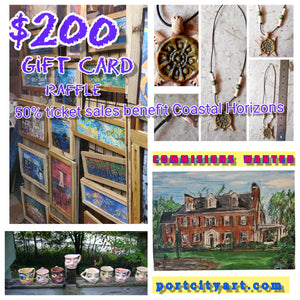 this is our last fundraiser for the Summer and we wanted to make it fun  and let  the winning ticket holder decide what they want  .. tickets are $5   one lucky winner will recive a $200 gift card to be used store wide (excluding shirts) 
50%of sales of all tickets will benefit Coastal Horizons 
This weeks  fundraiser  will be our 11th in the spring/summer series  and will benefit ....
Coastal Horizons is an invaluable part of our community providing a wide array of services  including crisis Intervention ,family Preservation , school based health Services, veteran services , health and wellness services, substance abuse and mental health services. 
50% of sales from the items in this collection will go to Coastal Horizons! 
thanks for shopping with a cause !